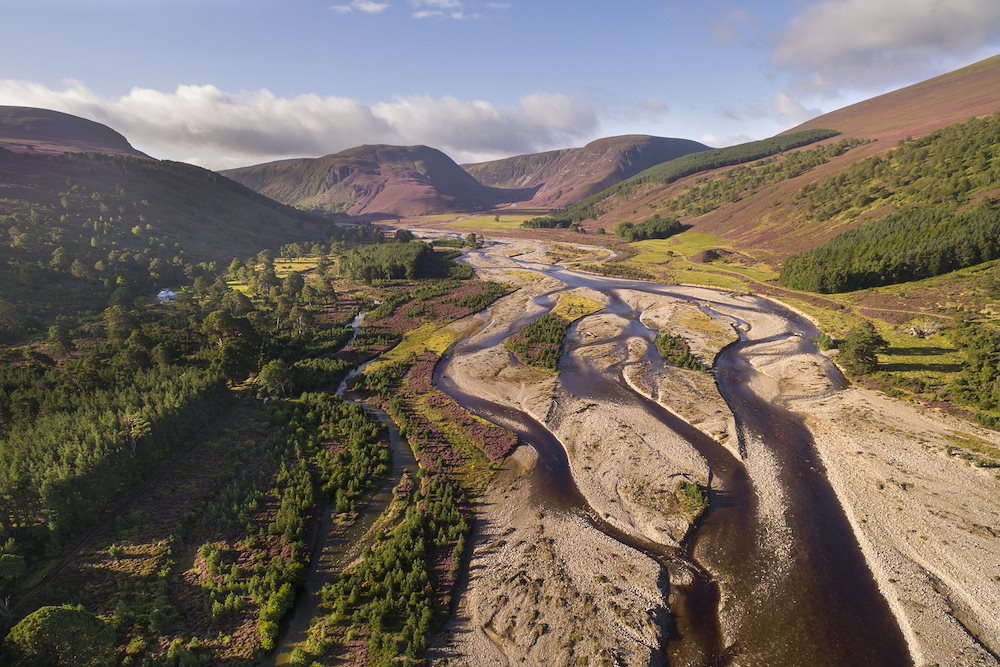 Rewilding Retreat
Cairngorms National Park, Scotland
Relax in our mountain lodge and dine on delicious food
Explore Highland glens for golden eagles, red deer and mountain hares
Visit the Caledonian Pine Forest, home to red squirrels and pine martens
Venture to secluded wetland to watch the resident beavers
Enjoy a day trip to Scotland's west coast in search of white-tailed eagles and otters
Learn about rewilding initiatives from those at the cutting edge
Receive a complimentary copy of our landmark book: SCOTLAND: A Rewilding Journey
What is rewilding? What does it look like and why does it matter?
Rewilding is the large-scale restoration of naturally functioning ecosystems on land and at sea. This means allowing nature to do more of its own thing and to establish natural processes that results in habitats brimming with wildlife. Some people call rewilding the conservation of the future.
Although the UK falls behind the rest of Europe when it comes to rewilding, there are many exciting initiatives underway in the Scottish Highlands that will see large areas of forest, peatland and wetland given back to nature. These are the places where sea eagles soar, pine martens forage and beavers shape forest and loch. These are the places where one day, lynx might stalk their prey again.
A key element of rewilding is for communities to see the benefit in restoring wild landscapes and wildlife populations, by creating new economic opportunities which allow them to thrive. We believe healthy nature and healthy communities go hand in hand. Our Rewilding Retreats demonstrate and support this philosophy.
Our retreats visit inspiring rewilding projects where we'll hear first-hand from the experts on the ground. They will provide a fascinating insight into their work and explain why rewilding is beneficial to both wildlife and people. Along the way, we'll visit amazing primeval forests, dramatic glens and sparkling highland lochs in search of the spectacular wildlife that lives there, such as ospreys, eagles, red squirrels, pine martens, beavers and otters.
Our adventure will be enhanced by fascinating discussions amongst our group, picnic lunches in the field and of course, the odd coffee stop. At the end of each day, we will return to the comfort of our mountain lodge for a relaxing evening meal with a glass of wine (or two...)
---
Details
Dates: 8-14 Jun 2019
Cost: £1195
Deposit: £300
Single Supplement: £0
Group Size: 7
Guide: James Shooter
Cost Includes: 6 nights accommodation in en-suite room; all meals; transport during retreat; guiding; presentations; transfers to/from Kingussie train station.
Cost Excludes: Travel to/from the retreat; travel/cancellation insurance; alcoholic drinks (wine is served with dinner); personal expenses.
Itinerary
Day 1: After arrival and introductions we shall enjoy our first meal together before an after-dinner presentation setting the scene for our adventure.

Day 2-5: We like to retain flexibility in order to react to weather and wildlife watching opportunities, but the retreat will be an action-packed adventure visiting some of Scotland's most spectacular wild places and searching for its charismatic creatures.

We will look for golden eagles, red deer and mountain hares in a remote glen and sea eagles, now prospering throughout much of Scotland, on the rugged west coast. An evening vigil will, with luck, give us a glimpse of the recently reintroduced beaver, a wetland engineer and a real symbol of our changing attitudes towards species that were historically vilified.

Elsewhere we will watch red squirrels scampering through their woodland home and pine martens from a local hide. From our mountain lodge we can walk through our rewilding reserve to watch ospreys at a private nest site.

During the retreat, we've arranged to meet up with several rewilding experts working on exciting projects from forest restoration to lynx reintroduction. They will provide a fascinating perspective on their work, stimulating new thinking about the future for Scotland's wildlife and wild places.

This is a unique opportunity to immerse yourself in the wildness of the Scottish Highlands, witnessing some amazing wildlife whilst enjoying great food, all against the backdrop of a rewilding narrative sure to stimulate and revitalise your perspective.

Day 6: We say our farewells after breakfast on Friday.
---
Essentials
ACCOMMODATION
Our accommodation in the Cairngorms is a lovely converted steading at the foot of the Grampian Mountains. Ballintean Mountain Lodge is comfortable and full of character - specially designed for house parties. We have a choice of single, double and twin rooms, all with private facilities. Kick off your shoes and make yourself at home!
The Lodge has Wi-Fi connection although due to its remoteness phone signals can be patchy.
TRAVEL
Your room at Ballintean Mountain Lodge will be available from 5pm on arrival day. Our first evening meal is normally taken at 7.30pm.
By car: Cars can be safely parked. Directions will be sent as Satnav is not always reliable. Our postcode is PH21 1NX.
By train: Train travel is generally reliable and we can offer free transfers to/from Kingussie station (7 miles).
By Air: Our nearest airport is Inverness (45 miles) and we can offer transfers but we charge £40, which can be shared if other members of the group are travelling by air. We collect at 4pm on arrival day.
MEALS
Breakfast and evening meals will be taken within our accommodation and prepared by our live-in chef. We offer home-cooked, wholesome food prepared with fresh, local ingredients. In the field we take a lunch picnic and home-bakes. We might also squeeze in coffee and cake stops along the way! We can almost always accommodate specific dietary requirements - just tell us on the booking form and we'll make sure you get what you want.
FITNESS
Most sites are accessible via a short walk but the terrain can be uneven and sometimes wet and/or slippery.You should generally be able to walk up to 2km, sometimes over uneven ground.
WEATHER
Weather is very changeable in the Highlands and you should expect anything from warm, calm conditions to wintry squalls. Temperatures are likely to range from 5c to 20c with the possibility of strong winds.
---
Guide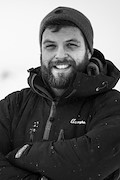 James Shooter
James is one of the Directors at Scotland: The Big Picture and an established photographer and filmmaker with a passion for conservation communication. He has spent several years guiding in Scotland, developing an acute knowledge of its wildlife and landscapes. A personable and engaging character, James will ensure you get the very best from your time with us.
---
Giving Back
By booking a Rewilding Retreat you'll be directly supporting local jobs and nature-based tourism in the Scottish Highlands. As a Social Enterprise, all of our surplus funds are reinvested in our work to amplify the case for a wilder Scotland.
;